– NAPTEB Result –
Are you a student? Did you write the just concluded NABTEB examination? Do you want to check your NABTEB result? If your response is yes, then this information is for you.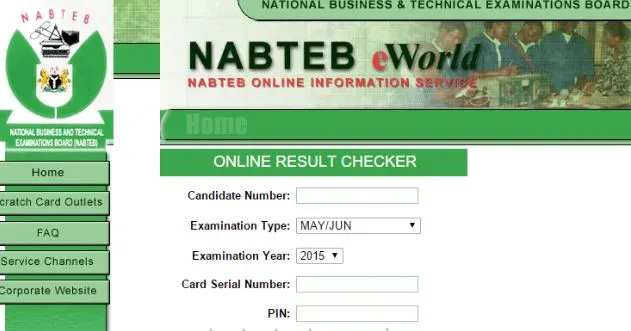 About the National Business and Technical Examinations Board (NABTEB) 
The National Business and Technical Examinations Board popularly known as NABTEB is a Nigerian examination board that conducts examinations for both technical and business innovation colleges all over Nigeria.
 The National Business and Technical Examinations Board (NABTEB) was established under Decree No.70. The Decree 70 (Act) mandated NABTEB with the sole responsibility to conduct the Technical and Business Innovation certificate examinations.
This was during the regime of the former military Head of State in Nigeria, General Ibrahim Babangida. The NABTEB examinations take place biannually in May/June and November/December, respectively.
When will NABTEB Result 2021 be Out?
According to the Registrar of the National Business and Technical Board (NABTEB), Professor (Mrs) Ifeoma Mercy Isiugo-Abanihe, November and December 2021 examinations results have been released.
Following this announcement, candidates should check their NABTEP results online as the result have been uploaded on the portal.
Statistics for NABTEB Nov/Dec Result 2021
According to the National Business and Technical Examinations Board, (NABTEB), the Registrar of NABTEB, Prof. Ifeoma Isiugo-Abanihe stated that 38,793 enrolled, while 38,639 candidates sat the examinations representing 99.60 per cent of the total enrolment.
The registrar confirmed that the number of credit passes obtained by the candidate for purposes of academic and work progression shows 76.30 per cent of the total number of candidates, which 25,915 candidates obtained five credits and above.
These five credits include English Language and Mathematics. Also, 88.1 per cent of the students scored five credits and above with or without English language and Mathematics.
How to get NABTEB Result Checker Pin
Here are the steps you need to follow in other to get your result checker pin to check your result:
1. You will log in to the NABTEB EWorld Website by clicking here
2. On the Homepage displayed, you fill in every required information. For further information, you will find more instructions on NABTEB EWorld.
3. This is very important, make sure you enter the correct PIN, Serial, Exam Year, Type & and also the Candidate Number in the spaces provided.
4. For your result to be sent to your e-mail, enter your e-mail address then click on the "Submit" button and wait for your result.
Note that the Pin & Serial Number can ONLY be used for 5 times for a particular Exam Number. So make sure you keep your result slip safe.
Procedures to Check NAPTEB Result
This is to inform candidates that will partake in the Senior Secondary Certificate Examination for Internal and external candidates (May/June) school and private candidates that you can access your 2022 NAPTEB.
You can access your NAPTEB result through SMS, EMAIL, and ONLINE. You can do this by carefully following the steps below.
1. Candidates are must visit the NABTEB Result Checker Online Portal through the link below; http://eworld.nabtebnigeria.org/
2. Then you enter your Candidate Identification Number. Example: 38001178.
3. Then you select the Type of Examination
4. You enter the four digits of your Examination Year. Example: 2020.
5. Enter the Card Serial Number which is on the reverse side of your Scratch card. The Card Serial Number has an alphabet prefix followed by digits like N123456789.
6. Also, ‌Enter the 12-digit Personal Identification Number (PIN) on your Scratch card. Something like 012345678912.
7. Then finally you Click Submit icon and wait for the results window to come up
How to Check the NABTEB Result through Email
1. First, you must have followed steps 1-5 above.
2. Then you click on the 'Send Results to E-mail' box
3. Enter a valid e-mail address like [email protected]
4. Then Click Submit and you wait for the results window to come up
How to Check the NABTEB Result via SMS
You need to send an SMS in this format: NABTEB*ExamNo*PIN*ExamType*ExamYear To 32327. Example: NABTEB*01001001*123456789012*MJ*2012.
How to Check NAPTEB Results Without a Scratch Card
You can't check your NAPTEB result for any year without having or buying your scratch card or pin. This is because for you to access the NAPTEB portal to check your result, you need a pin or scratch card to check the candidate's result.
Please Note:
You must not use a card that another candidate has already used. Also, do not enter an invalid e-mail address for the result to be sent. This will penalize you by deducting your card use.
Other Information about the NAPTEB Result Checker
The NABTEB online system offers a very convenient way to check all NABTEB examination results. Therefore, once the results are released, they will be available via the NABTEB Results system.
However, by using the NABTEB Results system, candidates can easily check their SSCE results by purchasing tokens.
Note that the token(s) can be shared with candidates, parents, schools, organizations or persons who wish to view the candidate's results.
Let us know how this article was helpful to you in the comment section below. Feel free to share this information with friends, family, and on social media.